Before we start the standard Tell Us Tuesday post - I wanted to personally say THANK YOU to all of you that have joined our link party - last week was our most successful week with over 100 posts!! Lauren and I are absolutely thrilled to meet all of you and we hope you come back again and again. Let's make it to 200!!

Here we go!

Welcome to the Tell Us Tuesday party everyone! We're excited to see what you've been up to this week! Stop by every Tuesday to link up your latest blog posts and show off what you've been doing, then check out the other links and find new bloggers to follow, inspiration for new projects, parenting tricks, or a new yummy dinner idea.
This week's
guest host
is Rhiannon @
On the Path to Love Enlightenment
. Her mission in life is to be fully alive in every moment, loving, engaged in with whatever is happening and whoever she is with in the present moment. The information in her blog is is dedicated to the purpose of improving your most intimate relationship and building a soulful, harmoniously united partnership with that person.
*
My relationship with Patrick
is actually going to be featured on Rhiannon's blog soon!
Here's what your hosts have been up to this week...
Now for some of the features from last week!
I am not one to hang out in the kitchen unless I am eating. BUT - Val got it right with this
seriously simple
and
amazingly delicious peanut butter pie
. Quick, easy, perfection. I made it just last week!
Waikiki Meatballs!?
Say no more! I'm in! As working Moms, we are always looking for simple and yummy meals that the whole family can enjoy. Maybe even make a family tradition like
The Silberez Life
.
DIY Features
I love what Kristin did over at
The Home Avengers.
This desk is great for any young lady starting her high school career. Her own space where she can even be creative with it herself!
Being a new Mom, it's always hard to find time where it's just Pat and I. Time that is just about
us.
Check out what Amy Lynn did
with her hubby to spice things up a bit and make their time more memorable
. I love this!

Ladies Tellin' It Like It Is
Dude! Everybody has been to Starbucks at least once...
did you know all of these secrets
to make your experience cheaper!? I didn't - I will definitely start following them now!
This past week was the 12th anniversary since the tragedy that was 9/11. Jackie wrote an amazing post about her memories of that day, but also she
talks about what she does say as a military spouse
. May I say a huge
thank you
from the Tell Us Tuesday folks for what you and your family go through to serve our country.

If you were featured, grab a button!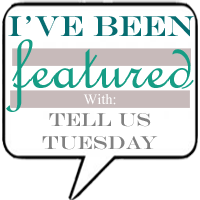 Now to
PARTY
! Just a few basic rules we'd love for you to follow:
-
Tell us
about your recipes, parenting tips, DIY projects, or your family vacation – we want to see it all!
-
Follow each of us
so you'll never miss a party. Follow on GFC, Bloglovin', or your favorite reader – we'd love to hear from you!
-
Add a party text link or button to your blog.
This helps us in exchange for letting 'ya link up! The more people that know about the party, the better.
-
Click around
– find a few links that interest you below and check them out! Better yet, leave them a comment and tell them where you came from!
-
Spread the word
– Share the party on Facebook and Twitter so more can join in the fun. The more people that find out about Tell Us Tuesday, the more it benefits you!
- We'd also love for you to
follow us on Facebook and Twitter
. We follow back!
- By linking up, you're giving permission for us to potentially feature your posts on the blog or social media.